Jon Kramer
Chief Executive Officer
sundialjon@gmail.com
Jon is a founding partner of Sundial. His roots in solar run deep, starting in 1969 when he soldiered together small solar arrays using solar cells his dad brought home from Goddard Space Flight Center. Jon spent many years in the building and engineering trades before starting Sundial Solar Consultants in Florida in 1999. He holds a BS in Engineering Geology from the University of Maryland and is NABCEP certified in solar PV.

Glen Goldsby
Director of Operations
ggoldsby@sundialsolarenergy.com
To say Glen is motivated in the Solar Industry would be an understatement. Glen started his career in solar energy in 2012 when he literally went coast-to-coast – from New Jersey to California – to get multiple PV certifications. He begin his career at Synapse Electric in Marin County. Upon his return to Minnesota in September 2012, Glen started as a Solar Technician for Sundial. From there, he has worked his way up to his current position as Director of Operations.

Tony Signorelli
Director of Sales & Marketing
tsignorelli@sundialsolarenergy.com
Tony Signorelli joined Sundial in 2018 as the company's new Sales and Marketing director. He comes to Sundial after 25 years of improving the effectiveness of sales teams for Fortune 500 companies. A seasoned business man, Tony is helping the Sundial sales and marketing team bring the benefits of solar power, solar lighting, and EV Charging Stations to our clients worldwide. "It is the most compelling business proposition I have ever seen," says Tony. He enjoys being a part of the solution at work, and he loves sailing Lake Superior any time he can get away.

Michael Krause
Business Development
Michael is the founder and principal of Kandiyo Consulting, a Minneapolis firm specializing in business development for renewable energy and sustainable development projects. In his capacity at Sundial, Michael works with municipalities and communities in the development of community solar gardens. He also currently serves as Vice Chair of Green Roofs for Healthy Cities.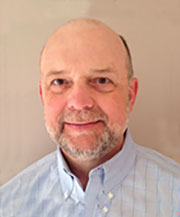 Erwin Templin
Chief Financial Officer
Erwin joined Sundial Solar in 2014 as the Chief Financial Officer. He comes to us with a long career as a Chief Financial Officer and Chief Administrative Officer of for-profit (public and private) and non-profit organizations. Erwin holds a B.S. in Economics and Business Administration, an MBA in Finance, and a Masters in Theology.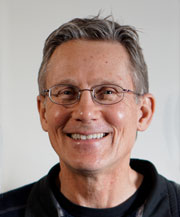 Paul Christensen
Account Manager
paulc@sundialsolarenergy.com
Paul joined Sundial in 2015 determined to make a splash in solar sales. He has completed the Midwest Renewable Energy Association (MREA) Solar Training Academy and passed the North American Board of Certified Energy Practitioners (NABCEP) PV Entry Level Exam. Paul has over 17 years of business-to-business sales experience as a senior account executive. He is strongly committed to integrity and customer satisfaction. Paul's focus is on growing Sundial's commercial, municipal, and educational accounts. In his spare time Paul enjoys wilderness vacations where there is no cell service or wifi signal.

Mike Hofmeister
Account Manager
After spending fourteen years in the staffing industry helping people find jobs, Mike decided to try something new and unique. So when the opportunity arose to try selling solar systems, he jumped at the chance. With a strong belief in solar power and a genuine interest in helping businesses (both large and small) save money on their electric bills, Mike has found a comfortable home at Sundial.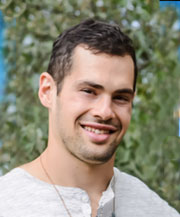 Marcus Larson
Account Manager
Marcus wants nothing more than to make a positive change in our environment. He came to Sundial eager to learn and motivated by using renewable energy to create a more sustainable future. You can find Marcus researching new technologies, approaches and techniques to a variety of projects. He enjoys spending time outdoors exploring new landscapes with his wife and dogs.
Burnell Lauer
Project Manager
Burnell's path in energy began while serving as co-president of Energy Club at the University of Minnesota. After finishing his B.S. in Chemistry, he found a position with Sundial where he's been wearing a variety of hats since. He spends most of his time managing commercial/industrial projects, overseeing IT, and tracking energy policy. Burnell is a native of central Minnesota and hopes to see major expansion of solar to rural and low-income communities. When not on the job, he enjoys backpacking, climbing, and bird watching.

Todd Yurk
Chief Technical Officer
yurktodd@gmail.com
After many years in the IT field, Todd focused his sights on renewable energy and joined the Sundial Team in 2010. If you have a technical question about the operation of a solar system or the software involved in monitoring, Todd is your go-to guy. Todd's primary responsibility is to make sure all Sundial arrays are working efficiently and in optimal condition. He also maintains our monitoring portal called Solstice.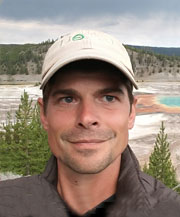 Tom Schroeder
Director of Field Operations
Tom has been installing with Sundial for six years and he now oversees all field operations. A very mechanically inclined individual, he has an uncanny knack for solving the most difficult and uncommon solar installations. His favorite part of working for Sundial is being up on the roof and making things happen.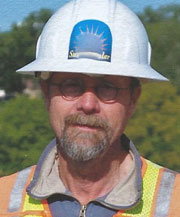 Tom "TJ" Jandric
Project Manager
tomjandric@gmail.com
TJ has been part of the Team since the solar train pulled into the station several years ago. He directly oversees the construction of most major Sundial installations nationwide. TJ has valuable team and leadership experience which he developed while working many years in the film industry. He is also trained in NABCEP Technical Sales.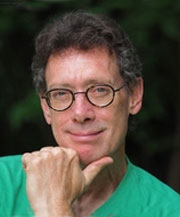 Ray Colby
Multimedia / Installer
Ray is a retired commercial, industrial, and documentary photographer. After over forty years in the photo industry, he started with Sundial Solar in the very early years. Ray is in charge of documenting all our installations and takes care of multimedia needs. He also installs new solar arrays for our clients. Growing up in the small rural town of Albert Lea, Minnesota, he has a sense of adventure and creativity that is deeply rooted. "I love the challenge of putting together a system that will create renewable energy and help our planet's future.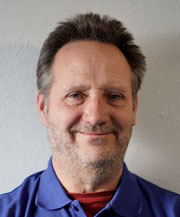 Gary Waryan
Technician
Gary has been installing with Sundial for 7 years. When he's not installing, he enjoys tapping on his tabla, playing with his grand kids and selling jewelry. In fact, he's had a booth at the State Fair for 26 years. When asked what he likes most about working for Sundial being up on the roof and working with his hands ranks at the very top.

Kevin Brown
Installer
Kevin has been an installer for Sundial since 2014. A consummate DIY'er by nature, he feels at home working with his hands and up on the roof. He especially likes the fact that what he's building for Sundial is helping to create a more environmentally sustainable future.